WHOLESALE COFFEE
CUSTOM BLENDS + WHOLESALE ROASTS
Our roastery is located a short walk away from our cafe at 2 E 2nd Street in Parkville. Using our side-by-side Diedrich IR-12 drum roasters (one of them built in 1985!) and expertise in blending flavor profiles, we provide custom and wholesale roasts to customers all over the country. Our customers include local businesses, grocery stores, schools, custom roasts/labels for events (weddings, company holiday gifts, etc.) and restaurants.
ABOUT WHOLESALE COFFEE
ROASTED IN SMALL BATCHES
Parkville Coffee is proudly roasted in historic downtown Parkville, Missouri – just a few minutes north of Kansas City. Our 1,800 sq ft space at 2 E 2nd Street is home to our roasting facility (Just a couple minutes walk from our cafe on Main Street.). Our wholesale coffee is roasted to order in small batches to ensure maximum freshness on one of our Diedrich IR-12 drum roasters. We partner with importers that provide sustainably farmed, fairly-traded beans.
MANAGE WHOLESALE ACCOUNT
You can now manage your wholesale account, including new and existing orders, online.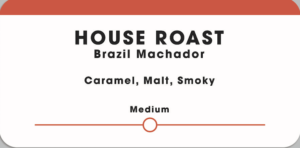 HOUSE ROAST (BRAZIL, Marchador)
Our friends at Anthem Coffee Importers have selected coffee from the Mantiqueira de Minas region of Brazil. It's grown at 1100 MASL elevation. Fun fact: Parchment is rested 30+ days in wooden silos called tuhlas to allow the moisture to equalize. The wood if often a Brasilian hardwood called Jacaranda or Peroba.
We use this profile as our House Roast, as well as in several blends, as we feel it is a great people pleaser and good breakfast coffee. The flavor notes we've chosen are caramel, malt, and smoky.
Process: Pulped Natural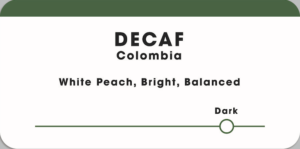 DECAF (COLOMBIA)
This decaf is from Finca Cristalina, a sugar cane E.A. Decaf from the Quindio region. Grown at 1450 MASL elevation. This decaf process uses the indirect solvent method, where the coffee is soaked in near boiling water for several hours. This extracts the caffeine from the beans. The beans are washed in bio-friendly and organic solvent for 10 hours. The solvent selectively bonds to caffeine molecules, which then evaporates out. The beans are then re-soaked in the original slurry to reabsorb their flavor elements and coffee oils.
We then roast this coffee on one of our Diedrich IR-12 drum roasters in small batches, and to order. We take this roaster a tad darker than most of our offerings.
Do not knock it 'till you try it. This decaf is DE-licious. It's flavor profile is bright and balanced, with notes of stone fruit– think white peach. It is a sweet decaf that doesn't compromise on flavor.
Process: E.A Decaf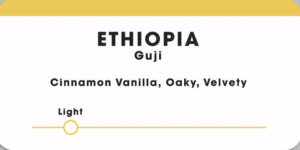 ETHIOPIAN (ETHIOPIA, Guji)
The personal favorite of our team, this lightly roasted coffee is velvety, with oaky notes of cinnamon vanilla. Utilized in several blends, this coffee is vibrant and unique in our line-up.
Process: Sun Dried Natural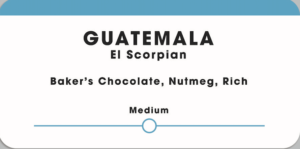 GUATEMALA (GUATEMALA, El Scorpion)
Grown in the Lake Atitlan region of Guatemala at 1500-1700 MASL elevation. A medium roast with rich notes of baker's chocolate and nutmeg. This coffee is a favorite of several baristas in our cafe.
Process: Fully Washed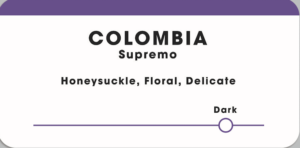 COLOMBIA (EL CAMINO REAL)
Grown in collaboration with a local (in Colombia) wet mill in Huila. Its name means "The Royal Road" in Spanish. This coffee in particular is purchased from several small producers. It's grown at 1100-1900 MASL elevation.
This is a dark roast with a delicate body and floral notes of honeysuckle.
Process: Fully Washed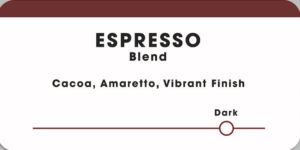 ESPRESSO BLEND (A blend of Guatemalan, Brazilian, & Ethiopian beans)
Using three different origins, our team has curated our unique espresso recipe by blending different origins at different ratios (after all of the beans have been separately roasted by origin) until we've achieved the desired experience for our espresso in flavor and vibes.
Our Espresso Blend is a creamy and rich dark roast, with flavor notes of cacao and amaretto, ending with a vibrant finish. This blend is great in the form of espresso, or even brewed as a cup of drip. Fun fact: We use this blend for our signature Cold Brew!