ABOUT US
PARKVILLE COFFEE
Parkville Coffee is proud to be a locally owned business supporting the residents and businesses in Parkville, MO, and beyond!
ABOUT PARKVILLE COFFEE
CAFE + WHOLESALE + CATERING
Parkville Coffee is a full-service cafe and small-batch coffee roasterie located on Main Street in Historic Downtown Parkville, Missouri. We feature handcrafted hot and cold beverages, baked in-house pastries, and lunch menu items, as well as wholesale coffee and custom blends, catering services, and a wide range of retail items.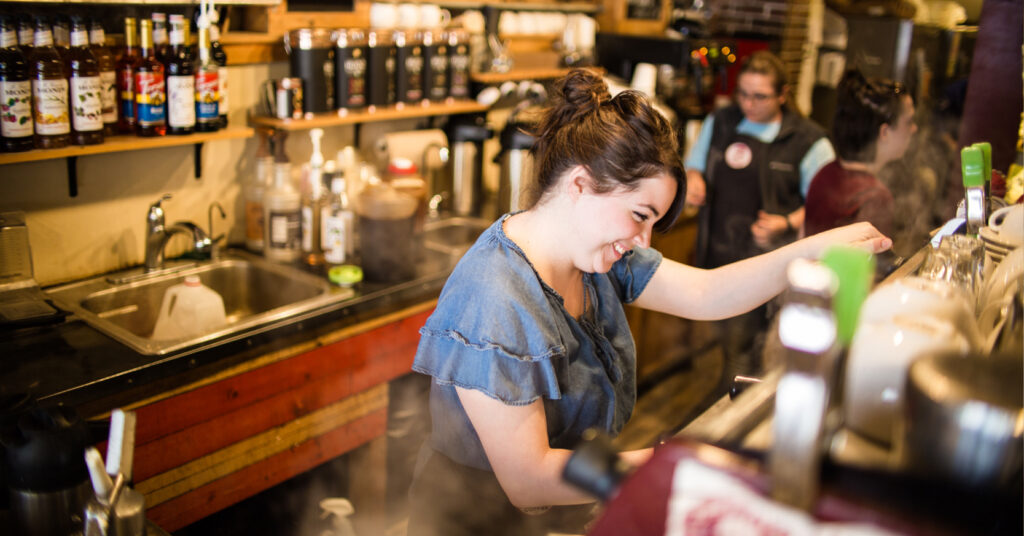 Meet Kristin, the owner of Parkville Coffee! Parkville Coffee originally opened in 2010, and the founder hired a young graduate of Park University in 2012 as a barista. Over the years, she worked her way up to shift leader and eventually manager. When the previous owner was ready to move on from Parkville Coffee, the two worked up a deal and Kristin assumed ownership. Kristin brings a fresh perspective of passion for people and coffee, expanded the wholesale roasting and catering, as well as added a book nook of local authors books for sale in the upstairs loft space!
Our incredible team is made up of a core team of managers, department leads, and baristas. Leon is our fearless leader as Store Manager. Phil leads our roasting department, Sydney leads the kitchen and bakery, and Kota leads our café. Beyond our managers, we hire a diverse mix of shift leaders and baristas, who show up every day with a passion for serving you.
WHOLESALE ROASTERY
CUSTOM ROASTED COFFEES
Using our classic Diedrich IR-12 drum roaster and expertise in blending flavor profiles, we provide custom and wholesale roasts to customers all over the country. Our customers include local businesses, grocery stores, schools, custom roasts/labels for events (weddings, company holiday gifts, etc.) and restaurants.
NEWS & EVENTS
THE LATEST FROM PARKVILLE COFFEE